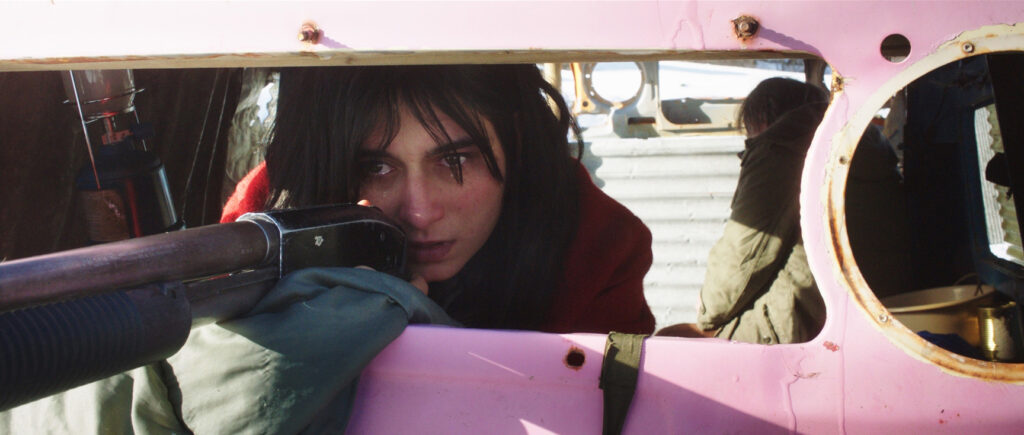 Sang craché des lèvres belles – Jean-Charles Hue
Tatino Films is delighted to announce the selection for the 3rd edition of Full Circle Lab Nouvelle-Aquitaine, following the remarkable success of the previous two editions, which saw alumni projects selected for the Cannes Critics' Week both in 2022 (Summer Scars by Simon Rieth) and in 2023 (Levante by Lilla Halla).
This year's program promises to be exceptional with 6 feature film projects chosen to participate the lab. 4 of them will undergo the intensive Development Lab, benefiting from invaluable support in writing, co-production consultations, and guidance in festival and market access strategies. 2 projects in the editing stage will participate the First Cut Lab, where they will receive expert feedback from industry professionals, guided by an experienced editing tutor.
The selected projects in development will attend two residential workshops & an Industry Day:
The first workshop will be held at La Maison Forte in Monbalen from the 21st to the 25th of June 2023. The second workshop will take place at Villa Valmont in Gironde from the 4th to the 8th of October 2023.
The lab will culminate in an Industry Day in Poitiers, in collaboration with the Poitiers Film Festival and its "Jump In" initiative. On the 8th of December 2023, participants will have the opportunity to pitch their projects to sales agents and distributors.
The expertly curated Full Circle Lab Nouvelle-Aquitaine team, led by director Matthieu Darras and co-directed by Myriam Sassine, is thrilled with this year selection. The chosen projects showcase the talent and creativity of both established and emerging filmmakers associated with the Nouvelle-Aquitaine region, as well as region-based producers.
Highlights
The line-up for the third edition is truly diverse, encompassing various genres and nationalities. It features 3 fiction films, 2 creative documentaries, and 1 animated feature, representing France, Romania, Hungary, Belgium and Denmark.
Most projects are led by women producers, with several initiatives originating from production companies based in Nouvelle-Aquitaine, renowned for their strong inclination towards co-productions. Notable participants include Celine Loiseau, the recipient of the Golden Bear in 2023 for On the Adamant by Nicolas Philibert, and Charlotte de la Gournerie, the producer of Flee nominated for the Oscars in 2022 across 3 categories (Documentary, Animated Feature, International Film), both with exciting new projects in the lab.
Renowned filmmaker Jean Charles Hue, notably known for Eat Your Dead featured in Cannes' Directors' Fortnight, has his latest film Sang Craché des Lèvres belles currently in the editing stage under the guidance of Matthieu Laclau, editor of Jia Zhangke's films and Cannes' 2023 titles: Only the River Flows (Un Certain Regard) and A Song Sung Blue (Directors' Fortnight).
Additionally, emerging talents like Oliver Rudolf, whose short film Fonica M-120 competed in Cannes' Cinefondation in 2021, and Eva Pervolovici, whose debut feature Marussia premiered at Berlinale Generation, are eagerly developing their upcoming projects.
The lab proudly welcomes the participation of 5 prominent production companies based in Nouvelle-Aquitaine: Sun Creature, Hutong Productions, The Dark, Vrai Film Films, and So Clé – participating Full Circle Lab for the first time.
LINE-UP
Development Lab
Océane by Eva Pervolovici
Prod. So Clé (Clémentine Mourão-Ferreira, France) and Libra Films (Romania)
My Mother, the Monster by Oliver Rudolf
Prod. Kino Alfa (Genovéva Petrovits, Hungary) and Vrai Vrai Films (Florent Coulon, France)
Betty's Dream by Liam Engels and Edgar Martin – Animation
Prod. Sun Creature (Charlotte de la Gournerie, France/Denmark)
La Détention by Guillaume Massart – Documentary
Prod. TS Productions (Céline Loiseau, France)
First Cut Lab
Sang craché des lèvres belles by Jean-Charles Hue
Prod. The Dark (Cédric Walter, France)
The Watchman by Lou du Pontavice et Victoire Bonin – Documentary
Prod. Hutong Productions (Lucie Rego, France) and Centre Vidéo de Bruxelles (Belgium).
TUTORS AND EXPERTS
The projects will be mentored by:
Philippe Barrière, screenwriter and script consultant (Made in Bangladesh, Toronto 2019)
Matthieu Taponier, screenwriter and editor (The Settlers, Un Certain Regard 2023)
Alexis Hofmann, head of acquisitions at French distributor Bac Films
Myriam Sassine, producer (Costa Brava, Lebanon, Venice 2021).
PARTNERS
Full Circle Lab Nouvelle-Aquitaine is financially supported for the first time this year by Gironde Tournages that joined the founding supporters which are the Agency Alca Nouvelle-Aquitaine, and the Lot-et-Garonne Department.
The lab has also partnered up with La Maison Forte in Monbalen, the Villa Valmont in Lormont and the Poitiers Film Festival.
CONTACTS
Matthieu Darras, Director of Full Circle Lab
matthieu.darras@fullcirclelab.org
Myriam Sassine, Co-Head of Full Circle Lab Nouvelle-Aquitaine